NLSIU Launches Alumni Engagement Platform!
August 30, 2021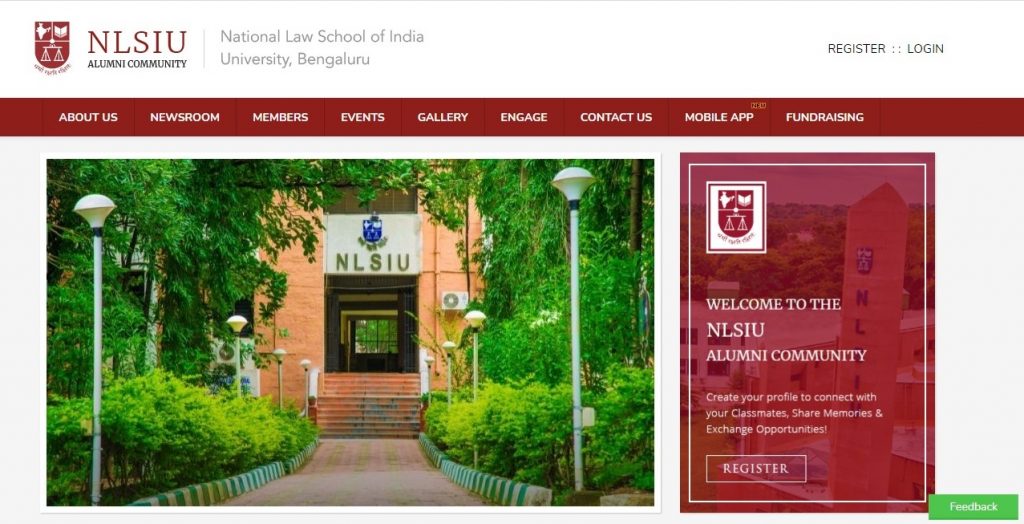 The National Law School of India University is excited to announce the launch of our new alumni engagement platform – a secure and exclusive network, that will allow alumni to network privately and reconnect with their alma mater.
Since the commencement of its first batch in 1988, our alumni numbers have grown to a strength of over 9000 members including those from our off-campus programmes. Today, the NLSIU alumni community is made up of vibrant, successful and socially engaged graduates who are reshaping their corner of the world.
Through such initiatives, we hope to further build and expand the NLSIU Community, connect our alumni with their fellow batchmates, and in future, also provide volunteering and mentoring opportunities within the community.
We encourage our alumni to join us in driving this vision forward and register on the platform.
Strengthening alumni relationships:
In 2019, the University made a significant shift in terms of appointing its first Vice Chancellor from the alumni community.  And over the last year, alumni engagement with the University has grown significantly:
A number of alumni have been recruited as faculty while several others have offered seminar/elective courses to our students;
Several alumni have returned to the University to pursue advanced degree programmes like LLM and PhD programmes;
Alumni have also functioned as examiners and external supervisors for PhD theses;
They have also contributed financially to the University, be it in terms of the Scholarship fund in the early part of the year, or the COVID relief fund which, in a short period, raised over INR 50 lakhs, or general contributions to the University. Read more on the 'COVID Relief Fundraiser' here.
The alumni association has also stepped forward to build strong alliances with the University.
How do I sign up?
To sign up, please visit alumni.nls.ac.in and click on the Register button. You can then sign up through your email address, or by using your social media account credentials. (Image shown below)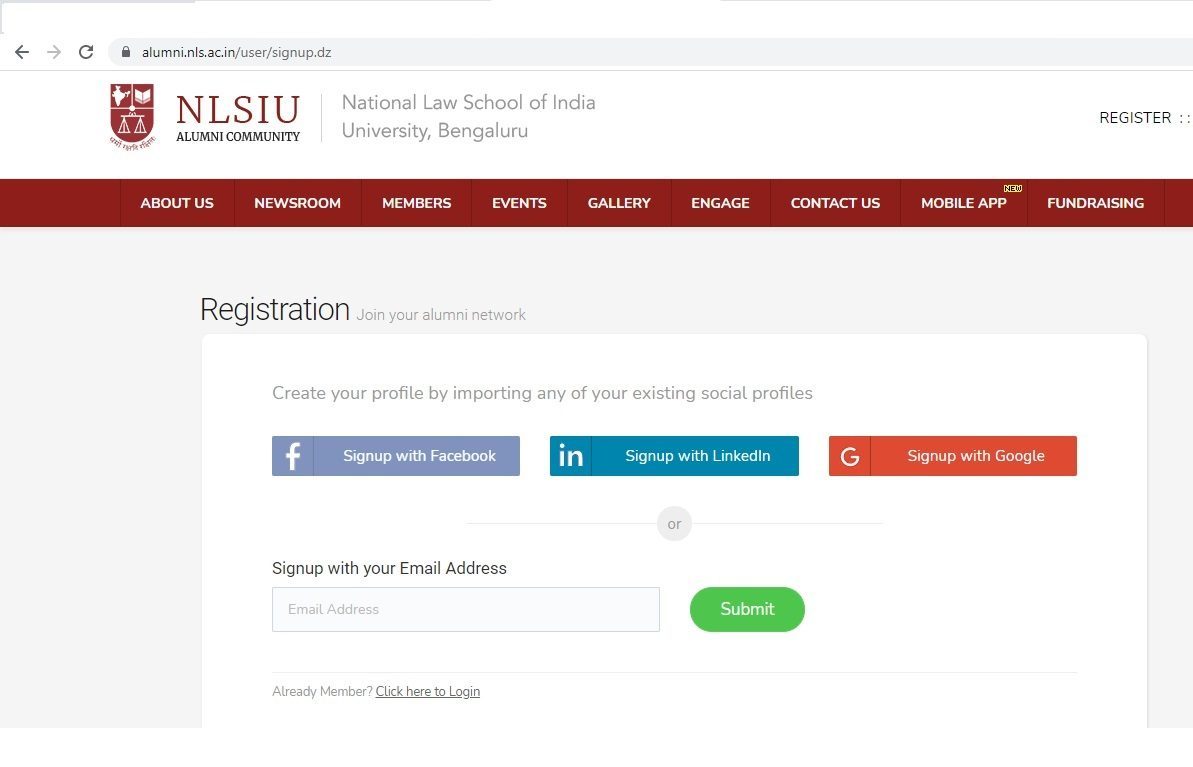 Features of the NLSIU Alumni Platform:
A single login for accessing all your alumni network.
Find alumni around you in just a click. Search for your fellow batchmates, view their profiles and connect with them.
Chat with your fellow batchmates on the go: Instant & Real time messaging communication with the University and other alumni members
Stay up to date with all the happenings on your alumni network:
– Read the latest News/Announcements/Blogs about the University, alumni activities, milestones, alumni interviews, articles, success stories etc.
– Access to Newsletters, Mailers & Invitations . This includes virtual events with RSVP and Registrations
Post your Class/Group memories/stories, and create events to share on the portal.
Social Share (Password Protected): Share the stories featured in our portal on your social media handles
RSVP for alumni meets right from your mobile app (available on Android and iOS). To download the app, click here.

What new features can I expect in the future?
Alumni Mentoring: Identify "Area of mentorship", "Type of mentee" etc. and mentoring groups.
Host guest lectures/webinars.
Jobs & Internships: Posting of job opportunities within the closed alumni network. Search for jobs by Skills / Location /Function.
Individual chapter groups for alumni across different locations, and assignment of admins for each chapter
Creation of Custom/ Special Interest Groups
Looking ahead:
We hope to further build on alumni services in the years to come. We are in the process of establishing a NLSIU Alumni Office staffed by an Alumni Officer in 2021 to consolidate and build on the remarkable engagement we have witnessed in 2019 – 2021.
In future years, we aim to offer subsidized alumni access to the digital library and to the online continuous learning programmes offered by the University.
For alumni related queries, please write to us at alumnioffice@nls.ac.in.
Frequently Asked Questions
For queries related to our Alumni Platform, please visit our FAQ page on the platform.