PACE Alumni Feature | Chetan Bhardwaj Receives Gold Medal for Best Outgoing Student in the MBL Programme
September 29, 2022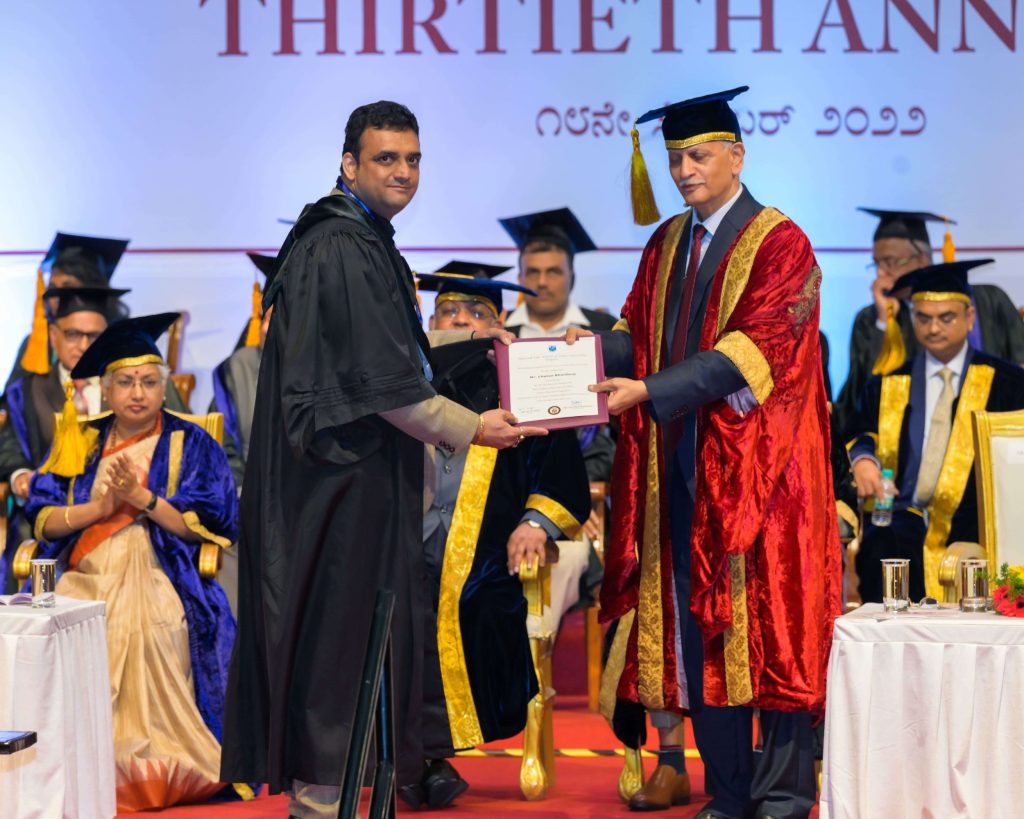 We congratulate Mr. Chetan Bhardwaj for being awarded the Late P.K. Das Memorial Gold Medal for the Best Outgoing Student in the MBL programme! Chetan is an MBA graduate and a Public Relation/Business Development professional with over 13 years of industry experience. During his professional journey, he has taken up roles that involved Government Liasoning, Project Acquisition, Office of Profit Management, Corporate Strategy and Business Development. Chetan enrolled for the Master of Business Laws programme at NLSIU for the year 2019-2021.
We spoke to Chetan on the occasion of NLSIU's 30th annual convocation where received the gold medal from the Chief Justice of India and NLSIU Chancellor Hon'ble Justice U U Lalit.
1. What was your reaction on being awarded the Late P.K. Das Memorial Gold Medal for the Best Outgoing Student in the MBL programme for AY 2021-22?
It set off a chain reaction for me, starting from skepticism and culminating in a mix of joy and satisfaction. Completing MBL from the prestigious NLSIU has always been a dream, so being the batch topper and then receiving the Gold Medal was like a dream within a dream. It is difficult to describe the sense of accomplishment that comes with this accolade.
2. Why did you opt for NLSIU's Masters in Business Law programme?
In my opinion, the Master of Business Laws programme offered by NLSIU is truly one of its kind. For someone like me who came from a non-legal educational background but had an interest in pursuing legal education, MBL was absolutely the right choice. The course curriculum has been carefully crafted to ensure that the knowledge imparted during the two years provides value addition to one's existing job role. This programme also offered the excellent opportunity to be a student of India's most prestigious law University, which in itself, is a proud feeling.
3. What were your learnings from the MBL programme and how did it help you with your career goals?
In my particular job role, MBL has tremendously helped me in updating myself with the technical and practical aspects of the important laws which had a direct impact on my competence to handle my assigned responsibilities. In my opinion, MBL is not just about law as it attempts to integrate the field of law with management. On one hand, the MBL curriculum educates you with the business laws and on the other hand, it also helps you understand the practical application of the laws in the real world.
4. How was your overall experience in our Online & Hybrid study mode?
The experience overall has been wonderful. The course material, online learning on the student portal, online classes, case studies etc, are designed in such a manner that right from day one, I felt very involved in the programme. Even though the Covid pandemic posed some challenges, the University had already adopted online methods and hence, there were no interruptions in terms of the learning during the MBL programme.
Admissions for MBL and other online & hybrid programmes are open until October 15, 2022! To apply, click below. 
Apply Here